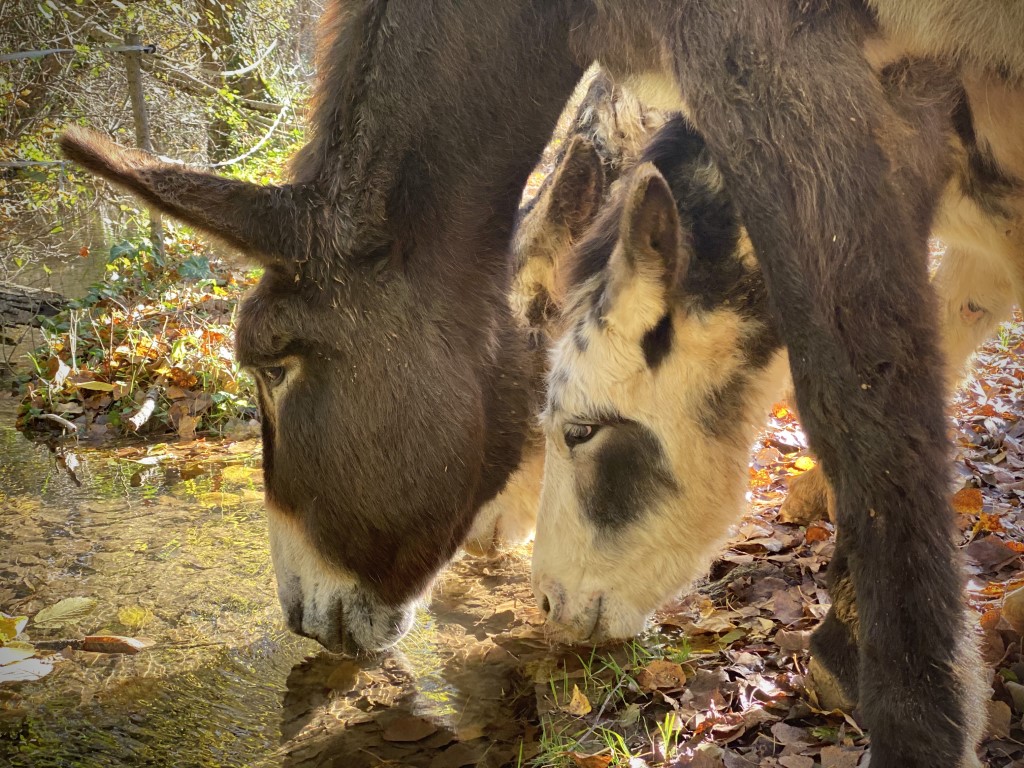 Our Story
From Renovation to Regeneration
Buying the farm was originally planned to be a short-term investment. That changed as soon as we bought our first donkey! Now we are dedicated to our animals and totally committed to our idyllic life on the farm.
Many years ago, Bourdicou was a summer camp for teenagers, owned by the Malakoff municipal council in Paris. Sadly, teenagers didn't want to spend their summer in a tent in the middle of nowhere, so the numbers dwindled. Prior to us taking it over, the last time the house had been used was 2009. It was left empty, totally unloved and left to rot. We are working our way through the property, renovating each area as funds become available. That's why there are still shower blocks and drains in the commercial kitchen floor.
In the past I used to restore vintage cinema seats, but due to my arthritis I could no longer continue. So I decided to fall back on another passion of mine – property renovation. Believe it or not, it is much easier than trying to use needles and sewing machines!
Five year project
We viewed countless online property sites before coming across la ferme and adding it to the list of 'contenders'. Our original aim was that it would be a five year Do Up and Sell project. However, the day before we were due to view it the estate agent called and said it was under offer.
Undeterred, we decided to go ahead with the viewing, even if it was only the outside. But we are so glad that we did because we loved it and wanted it. Thankfully for us the other sale fell through. So, we immediately put in an offer which was accepted and then viewed the complete property. Even at this point, we had no idea what the area was like or seen any of the local villages. Mainly because we were simply passing through, heading further south.
From putting the offer in, to completing the purchase took a year. And during this long waiting period things were beginning to change. We had decided that we definitely wanted to have a donkey! By another strange twist of fate, on our first day here, a man walked along our lane with a donkey.
Having previously lived in London, seeing a man wandering past with a donkey was like a mirage! Call it fate, destiny, whatever you want, to me it was my absolute heaven.
And the rest, as they say, is history.
From the moment we moved in, we still talked about the five year project. Now though it means five years to finish it. We no longer have any plans to do it up and sell. In fact, the mere thought of being separated from my animals sends me into a huge panic!
It has been – and still is – an absolutely incredible journey. I pinch myself every day to make sure that life on the farm is not a dream. We have come a long way from living in South London to running this fantastic place. And it's a journey that improves and evolves into something more beautiful every single day.
Here at ferme du Bourdicou we have a very simple philosophy about everything we do. Be respectful to nature and make it inclusive for everyone who visits. And, equally important – it must be FUN doing it!
A brief overview of my past life
Worked as a Human Resources manager for an international law firm for seven years.
Trained dogs for film work – 101 Dalmatians, Crufts, Graham Norton Show, worked with Jason Statham – to name but a few. It all started when I bought a Dalmatian puppy. I saw an advert on TV and thought I could do that. So I did dog training and whispering with my four wonderful 'working' dogs.
Bought and renovated houses for Buy to Let, one in South London and one in France.
Acquired an art deco cinema, but all the seats were falling apart. So I did an upholstery course to learn how to cover the seats, refurbish the legs and backs, etc. Restored the seats, sold them on eBay and all over France. Some of my customers were Selfridges in London, Oscars, Office Shoe Store, Carnaby Street, Hendricks Gin company, pub chains, etc.
Had a holiday home in Capestang since 2000 and moved to France permanently in 2016.